Appointments System - Important Information
Patients may only enter Clay Cross Medical Centre if they have been invited to attend for an appointment by one of our healthcare practitioners.
The Surgery is currently closed for walk-in patients.
The NHS has advised ALL GP surgeries to move towards a telephone based service. Therefore all GP and ANP appointments will initially take place as a telephone appointment.
Appointments are available to book by calling the surgery as normal on 01246 862237. Following a telephone appointment, if a clinician feels they need to see a patient for a face to face appointment they will make the necessary arrangements with the patient.
eConsult
Patients can now use eConsult, a new online consultation service. eConsult will be available 24/7. Tell us what we can help you with online and we'll get back to you 3 hours with the next steps.
Click on the image opposite to access the system.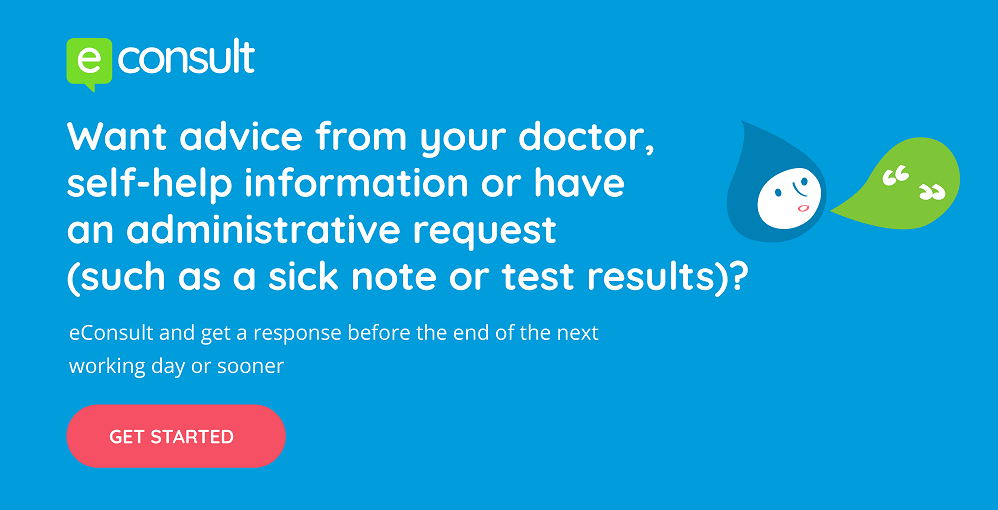 For other appointments such as Injections, smears and baby immunisations please contact us for further information.
If you are asked to attend an appointment at the surgery please ensure that you wear a mask or face-covering when attending.
If you have any queries please call the surgery. Do not come to the surgery unless you have been invited.
Chaperones
Clay Cross Medical Centre is committed to providing a safe, comfortable environment where patients and staff can be confident that best practice is being followed at all times and the safety of everyone is of paramount importance.
All patients are entitled to have a chaperone present for any consultation, examination or procedure where they feel one is required. This chaperone may be a family member or friend. On occasions you may prefer a formal chaperone to be present, i.e. a trained member of staff.
Wherever possible we would ask you to make this request at the time of booking the appointment so that arrangements can be made and your appointment is not delayed in any way. Where this is not possible, we will endeavour to provide a formal chaperone at the time of request. However, on occasions it may be necessary to re-schedule your appointment.
Your healthcare professional may also require a chaperone to be present for certain consultations in accordance with our chaperone policy.
If you would like to see a copy of our Chaperone Policy or have any questions or comments regarding this, please contact the Practice Manager.
Home Visits
Whilst we encourage our patients to come to the surgery, where we have the proper equipment and facilities available, we do appreciate this is not always possible. In this respect, if you do need a home visit, you can help us by calling reception before 12:00pm if possible.
Home visits should only be requested for those who are housebound or are too ill to visit the practice.
Your GP will only visit you at home if they think that your medical condition requires it and will also decide how urgently a visit is needed.Please bear this in mind and be prepared to provide suitable details to enable the doctor to schedule house calls
You can be visited at home by a community nurse if you are referred by your GP. You should also be visited at home by a health visitor if you have recently had a baby or if you are newly registered with a GP and have a child under five years.
Cancel an Appointment
It is important that you inform the reception staff if you are unable to attend your appointment, this will allow that appointment to be offered to another patient. If you fail to notify the Practice that you are unable to attend, you will be sent a letter informing you that you have defaulted from your appointment. Persistent defaulters maybe removed from the list.
You can also complete our appointment cancellation notification request form. This can only be used if your appointment has been arranged for more than 24 hours in advance. (excluding weekends and public holidays). You can also text to cancel your appointment.
Text Reminder Service
We have a texting service which allows you to receive confirmation and reminders about your appointments.
To have this service you will need to register by completing a consent form.
Please remember to update your contact details with us when you change address, telephone numbers and email address.